If you are looking for a cool free software utility to do some handy network administration tasks, then you may want to check out the "WhatsUp Engineer's Toolkit."  Here at ComputerHowto, we are always looking for cool handy utilities that make our jobs as IT professionals a little easier.  We all need to perform common networking housekeeping from time to time by collecting MAC address information, performing a ping sweep, DNS diagnostics, or even calculating subnet masks and IP address ranges.  Using the WhatsUp Engineer's Toolkit, you have a lot of these handy utilities at your fingertips in a simple and easy to use "windowed" interface.  The free Engineer's toolkit provides the following utilities:
Cisco Password Decryptor
Netflow Configurator
Subnet Calculator
Interface Bandwidth
Ping
SNMP Grapher
Spam Blacklist Checker
Trace Route
WAN Load Generator
MAC Address Discovery
Ping Sweep
Port Scanner
DNS Analyzer
DNS Audit
DNS & Whois Resolver
Remote TCP Session Reset
Wake On LAN
Syslog Server
TFTP Server
Check out the screenshot of the utility below.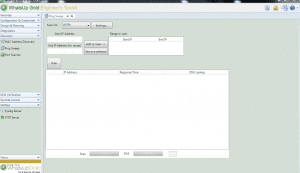 They also provide a "Gold" edition that includes all features to the utility and provides access to full alerting capabilities, plugines, support, and a wide variety of other features that system administrators would be looking for.  Check out the link to the product: https://www.whatsupgold.com/index.aspx