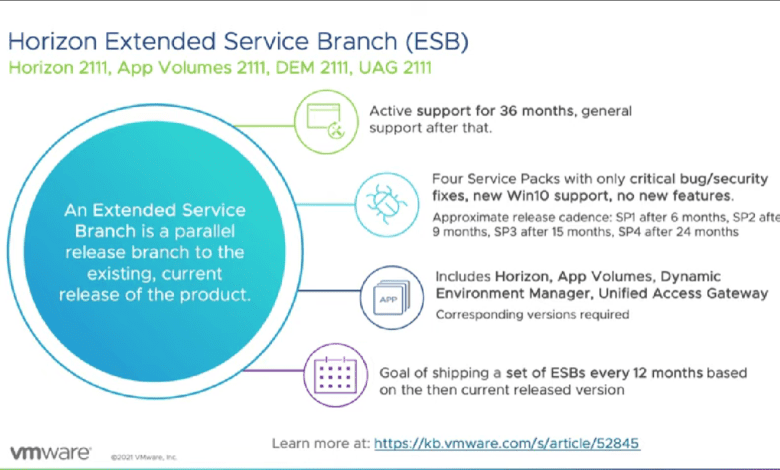 VMware has just introduced VMware Horizon 8 2111. This release is full of new features, capabilities, and functionality between the platform, REST APIs, Horizon Console, Agents, remote experience, Blast protocol updates, Microsoft Teams enhancements, and Horizon Clients. Let's take a look at VMware Horizon 8 2111 released new features.
Horizon 8 Version 2111 Platform updates:
Many new platform updates are found across the board with VMware Horizon 8 2111. These include several improvements
Windows Server 2022 is now supported for Connection servers
Licensing now has a 30-day grace period. So a license issue does not immediately lock you out of Horizon. The 30-day grace period allows rectifying license issues while still maintaining access.
If issues are detected with the Horizon Agent, Horizon now intelligently chooses machines that provide the best experience, helping to avoid issues.
New improvements to Horizon handling load have been introduced with version 8 2111. It helps to prevent servers without any load getting hit with and flooded with requests. It includes a session threshold, load index and other built-in features for load throttling.
Auto-renewing self-signed certificates – within 30-days prior to the certificate expiring.
Horizon Extended Service Branch (ESB)
This release of VMware Horizon is called an Extended Service Branch (ESB). What does this mean? It carries the following characteristics and features of support:
Active Support for 36 months
Generally supported after the 36 month period expires
Service packs (up to 4) and then critical bug/security fixes afterwards. Also, will get new Windows 10 support but no new features
To be in a "supported condition" with VMware Horizon 8 2111 and ESB, you need to run the companion products that interact as a bundle. As always be sure to consult the VMware Compatibility Matrix – Product Interoperability Matrix (vmware.com)
The bundle of supported products includes Horizon, UAG, App Volumes, Dynamic Environment Manager, etc
https://kb.vmware.com/s/article/52845
New Horizon 8 2111 REST APIs
VMware continues to push the envelope of automating solutions across the board. This includes VMware Horizon. In this release, there are new REST APIs that allow interacting with VMware Horizon for performing extremely powerful operations including:
Creating desktop pools
Updating pools
Deleting pools
Desktop Actions
RDS farm actions
Horizon Recording
One of the new changes with VMware Horizon 8 is the rename of Desktop Recording. It is now named Horizon Recording. The tool's capabilities have been augmented to include RDSH desktops in addition to the Desktop sessions that were previously available. Also, it now supports localization.
VMware OS Optimization Tool is now a production supported tool
We have all used the VMware OS Optimization tool in times past to optimize Windows 10 and other operating systems for use with VMware Horizon and even to streamline and tweak the Windows operating system in general. It is amazing to think this has been a VMware fling and not an "official" product until now. Now, the VMware OS Optimization Tool is a supported, official product from VMware.
You will find it supported with the following operating systems and solutions:
Windows 11
Windows 10 21H2
Windows Server 2022
Office 2021
Instant Clones
Instant clones are the way forward with VMware Horizon. Instant Clones replace the legacy linked clones of previous versions of Horizon. There are now additional capabilities related to instant clones. These new capabilities include the following:
VMware vSphere Standard Switches are supported for instant clone desktop pools
Support for multiple NICs
Flating and dedicated instant clones now support maintenance mode
Those who are currently using linked clones need to move up to Instant clones as this is the technology with Horizon versions moving forward.
This carries many advantages in testing in the environment, including limiting the potential negative effects of configuration changes. You can take a new image and apply the image to only a portion of the desktop pool and test changes, patches, and other various configuration changes before rolling it out to the entire pool.
This allows choosing a subset of your desktop pool on which to test the changes made. You can then the instant clone image updates to all systems.
Horizon Console new features
Take note of the following new features that are included in the Horizon Console and included features and functionality.
Warning when performing bulk machine operations
Performing multiple actions on many different objects can be a time saver. It can also lead to big trouble quickly if the wrong action is performed on the wrong objects. Now with VMware Horizon 8 2111, you get a warning in the UI when performing bulk operations.
Events Filtering in Horizon Console
Auditing events can be extremely important in a VDI environment. In previous versions of VMware Horizon, this was a cumbersome process that could even involve querying the Microsoft SQL Server database directly to find what you were looking for.
The new VMware Horizon 8 2111 release has made this much easier with the ability to see and filter events data directly within the Horizon Console. It provides a multitude of tools that allow interacting with your search and filtered data. You can choose from the following search criteria:
You can choose the number of events (2000-20000)
Set custom data ranges, severity, modules, and source
Choose the severity, module and source
Free text search for messages
You can set the events timestamps to UTC to standardize if you have multiple locations that span across time zones. This helps to avoid confusion that comes with trying to dicipher dates/times in logs
You can export your settings
Select Page Size in Horizon Console
A simple new improvement but very handy – you can now select the items visible per page and select all items across pages.
Machine status dashboard
There is a new machine status dashboard that provides a machine-centric view of the environment in a single view.
RDSH Drain Mode Indicator
You can see the RDSH drain mode status directly from Horizon in VMware 8 2111.
Background Scan Status for Carbon Black
Carbon Black is an intelligent new VMware security solution. Now you can see the Carbon Black scan status of the golden image. You can only see this status with instant clones and Windows agents.
Horizon Agent Updates
New option in Horizon Agent Installer to perform silent installation using a settings file instead of entering parameters manually on the command line.
The VMware Tools SVGA driver is not included in Horizon Agent Installer. This is a great step moving forward without the challenges of the "order of operations" between Horizon Agent and VMware Tools.
Blast protcol improvements in 2111
HDR Encoding – Now delivers High Dynamic Range (HDR) encoding
NVIDIA Ampere A10 and A40 GPUs
Reduced CPU usage by optimizing capture path
Microsoft Teams Optimization
Live captions are now supported for Microsoft Teams meetings.
Custom Together Mode Scenes are now supported for Microsoft Teams meetings.
E911 and location-based routing are now supported for Microsoft Teams on Horizon Client for Windows and Horizon Client for Mac.
VMware Horizon Clients 2111 improvements
Directly from the "What's new in Horizon Clients 2111" – VMware Horizon Client for Windows 2111 Release Notes
Enhanced default printing behavior
This release introduces the following enhancements to the VMware Integrated Printing feature. A new toolbar offers updated page icons and the ability to scroll with the mouse wheel. The preview displays pages immediately. Previously, you had to wait for all pages to process before a preview was rendered.
The system tray displays a counter for new items
For seamless applications, the item counter was missing from the application icon in the Windows system tray of the Horizon client. In this release, the application icon includes a counter. This counter indicates the arrival of new items. In the event of a disconnection, the counter updates after reconnecting and a new item arrives.
Enhanced Alt-Tab behavior – Previously, focus might return to a window's title bar and not the application after using Alt-Tab. In this release, the focus returns to the application as expected.
Increased integration with assistive technologies
These accessibility enhancements include improved interoperability with screen readers such as Narrator.
Additional language support for Input Method Editor (IME) 
Horizon Client for Windows supports Traditional Chinese for IME with Remote Desktops and right-click options for Japanese.
Risk score assessment 
The Horizon Client for Windows supports risk score assessment from Workspace ONE Intelligent Hub.
Windows 11 and Windows 10 version 21H2 support
You can install Horizon Client for Windows 2111 on a Windows system that is running Windows 11 or 10 version 21H2.
Client Hardware Acceleration support for Real Time Audio Video (RTAV)
The Horizon Client for Windows supports registry keys for hardware acceleration
Wrapping Up
The VMware Horizon 8 2111 Released New Features is a very full list of great new features and capabilities that make this the most powerful and robust release of VMware Horizon to date. Learn more with the following links:
Don't miss out on new posts! Sign up!