Licensing
VMware Changing CPU License Model Limits Cores Per Processor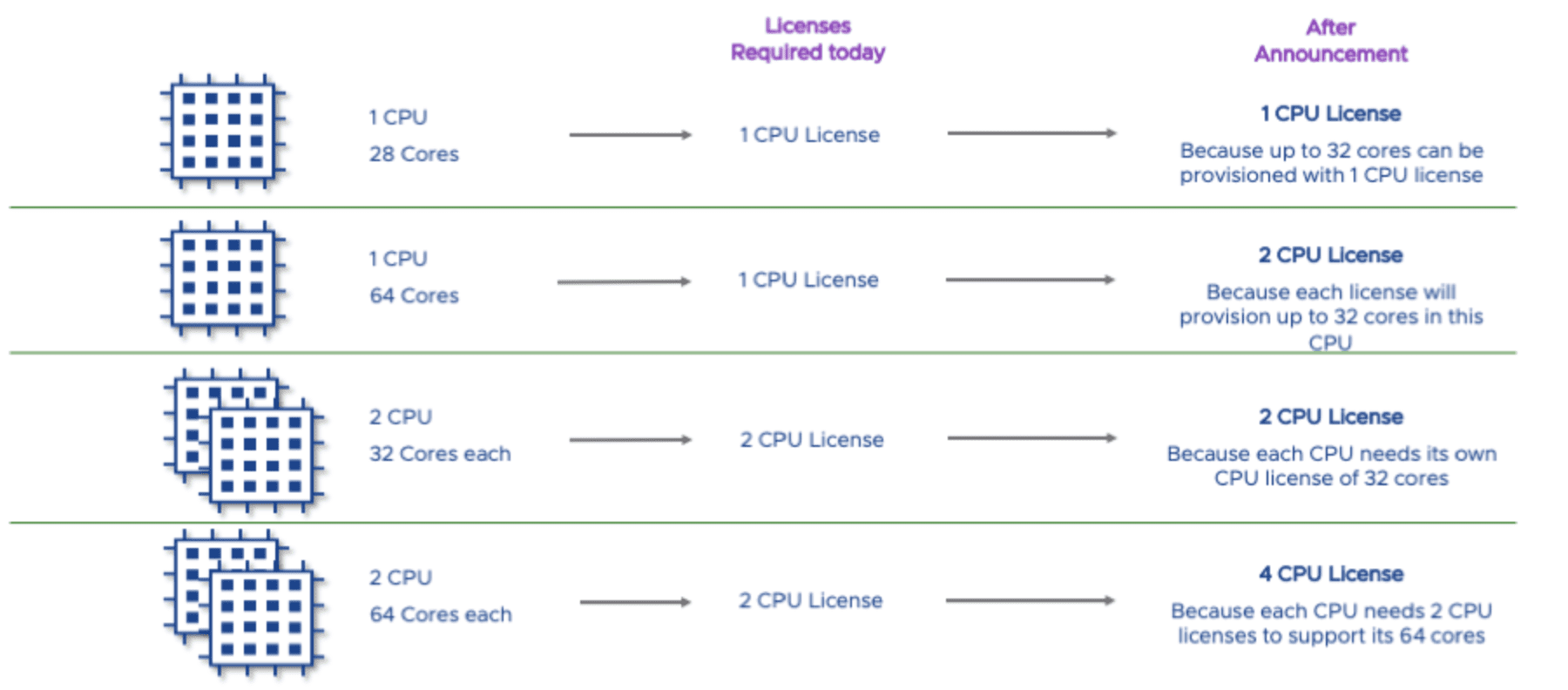 Today, there was big news on the licensing front from VMware with a change in future licensing for VMware vSphere. As most have been aware, no doubt if dealing with Microsoft licensing, you know the trend in the industry has been a move to "per-core" licensing instead of the more traditional "per-socket" or "per-CPU" licensing model. I have honestly been a bit surprised that VMware has left their licensing model the same for such a long, extended period of time. Well, today, that licensing model that we know and love from VMware looks to be changing to at least more of a shift towards the "per-core" licensing model that we are seeing across the industry. In this post, we will take a look at VMware Changing CPU License Model Limits Cores Per Processor and see what change was introduced today, what it means for VMware customers, and what if anything you need to do today.
VMware Changing CPU License Model Limits Cores Per Processor
First, let's talk about the change. What change is being made in VMware licensing today? According to the official announcement post today, VMware is changing their licensing model so that you are required to have 1 per-CPU license per 32 physical cores.
Why is VMware making this change? Below is taken directly from the post linked above as to the change in the software licensing from VMware:
"This approach will make it easier for customers to compare software licensing and pricing between VMware (using per-CPU with up to 32 cores) and other vendors (using per core pricing). It also helps us keep our pricing simple and relevant to where the hardware market is going."
There are two dates to be aware of with this change to the per-CPU licensing model with VMware and the new 32 physical core licensing model.
April 2, 2020 – This is the date when the new licensing change goes into effect with the 32-core per-CPU licensing model
April 30, 2020 – This is the last day of the grace period following April 2, 2020 that VMware is giving free licenses to customers who purchase physical servers with more than 32-cores prior to this date.
Below is an info graphic showing the current licensing model as well as how different quantities of cores will be licensed after today's announcement.
I will give kudos here to VMware both for not making any licensing changes before now and for setting the limit to 32 cores. Per statistics mentioned by VMware, the majority of VMware customers today are running fewer than 32 cores in current hardware and are not affected by the change as it stands for now.
If you are familiar with Microsoft's per-core licensing since Windows Server 2016, it is quite different and impacted basically all customers since they model their core licensing in packs of two Cores. You have to purchase a minimum of 8-cores per physical processor installed in a server and you have to purchase at least a minimum of 16 core licenses per licensed server.
When you compare this to VMware's change made today, the VMware change is certainly less impactful.
Is this Per-Core Licensing?
A slight nuance here to be considered – this is not true per-Core licensing as we see implemented by other vendors. Rather, this is a limit of the number of cores per-processor. This is a slight nuance, however, is important to realize when considering the change and how it impacts your vSphere environment.
PowerCLI Tool to Audit VMware CPU Core Licensing
You may wonder especially if you have a large VMware vSphere environment with many hosts and various hardware configurations including different CPU cores, how do you know if you are affected by the license change?
In conjunction with the change in VMware vSphere licensing that includes the change to a 32-core CPU license, VMware has introduced a new PowerCLI tool by way of a PowerCLI module so you can effectively audit your clusters to see how you may potentially be affected by the change in CPU licensing moving forward.
There is a new KB article entitled Counting CPU licenses needed under new VMware licensing policy (77098). In the KB, the PowerCLI module is attached for download. The steps are simple.
Download the vSphereCPUSocketToCoreUsage.psm1 module
Import the module into PowerShell using the import-module command
Connect to vCenter Server
Run the module against your vSphere cluster
You will see results similar to the following output in your environment. This was run against my Xeon-D Supermicro hosts which being 8-core configurations, will not be affected by the 32-core limit for a CPU license.

The Per-Core CPU License Trend
I mentioned this above, however, as most are already aware in dealing with other licensing changes in recent months or this past couple of years, you have no doubt noted that software companies are changing their licensing to this per-Core licensing model, instead of the blanket per-socket or per-CPU licensing that has been the standard for the past decade.
A couple of examples to mention that many of you have no doubt already dealt with may include Microsoft's change from the socket-based licensing to the per-Core model.
You can read Microsoft's document here on figuring up per-Core licensing with Windows Server 2016 and by extension, Windows Server 2019. You may have noticed that Veeam has switched to an "instance-based" licensing for their products as well.
These are only a couple of examples that I have worked with in many different environments. There are no doubt many others.
Software companies can slice and dice or spin the reasoning for switching to Core-based licensing any way they want to. However, when it comes down to the underlying reason, it is this. CPUs are getting more and more powerful and dense. With CPUs now topping 64 or 128 cores in a single package, this is a lot of processing power contained in the physical CPU.
This means if software companies give you the same license for a "physical" CPU, they are in essence losing revenue with each generation of CPU released that contains more cores, etc. With newer CPUs, when you think about it, you are having to purchase less physical socket licenses than you would have previously since you have more CPU cores available in the physical CPU in newer CPUs.
I am not against software companies doing this, especially with the great features and functionality they bring to the enterprise data center. However, I do think the "spin" on the "why" needs to be a little more transparent.
I do applaud VMware with the change announced today as they could have certainly been much more aggressive in the number of CPU cores that make up a "CPU license" and could have obviously been after a money grab here, however, they are choosing the high road and doing the right thing for their customers while aligning the business with the modern approach to software licensing with modern CPU architectures.
Wrapping Up
As we approach the end of the first quarter of this year, be aware of VMware Changing CPU License Model Limits Cores Per Processor. This is certainly the industry trend.
VMware has chosen a very reasonable 32 cores as the point at which you will have to purchase additional CPU licenses. Also, be aware that there is a new licensing PowerCLI module that can be very helpful in determining how your environment will be impacted by the VMware CPU licensing change.
Don't miss out on new posts! Sign up!