Windows 10
Get Windows 10 November 2019 Build Early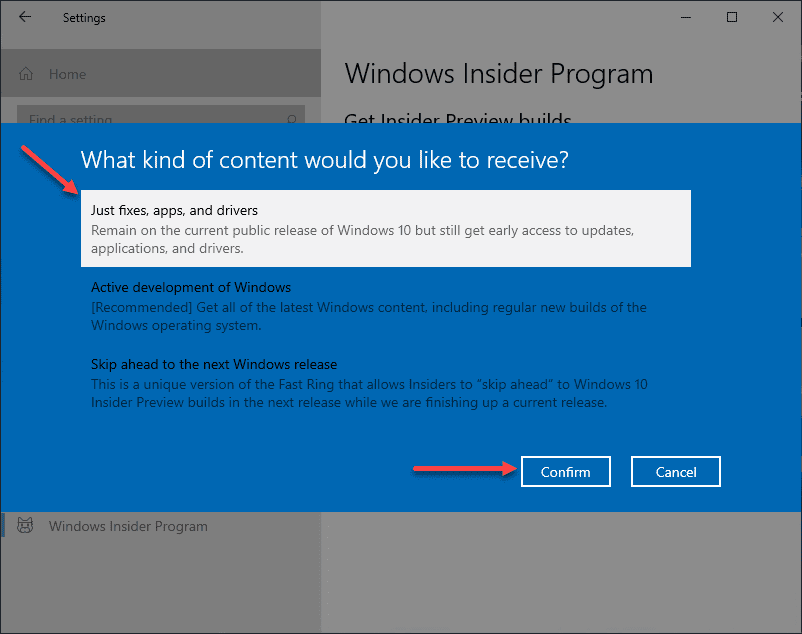 One of the cool things about the current Windows 10 release strategy is the ability to get the "preview" builds early and essentially be a beta tester for Microsoft if you like that kind of thing. If you like living on the bleeding edge, the ablity to install releases early helps to satisfy that desire! This post is a reminder if nothing else that you can get the releases of Microsoft Windows 10 before they are released as GA using a Windows Insider account. The Windows 10 November 2019 update build is soon to be released. According to Verge and others, the final build is now available to be obtained using the Insider account. Let's take a look at how you can get Windows 10 November 2019 Build early to test out the features before they are released to the masses.
What is the Windows Insider Program?
What is Microsoft Insider Program? This is a program from Microsoft that allows you to explorer the future of Windows. Through the program you get access to new Windows features that are not made available to the masses until the GA release of the Windows build. It is a sneak peek if you will at these features to test drive beforehand.
There is two-fold benefit to the program, including benefits to Microsoft. For customers, the benefits are gaining access to possibly cool and exciting features in Windows before they are made available. This can shorten your wait for the features and functionality.
Microsoft benefits in that they get a fairly large number of beta testers of Windows features and functionality and can get valuable feedback on features that may have issues or potential bugs in the way they work.
What are Insider Preview Rings?
Microsoft uses unique terminology to define the frequency of the Windows 10 Preview builds. Microsoft calls these "rings". With each ring you get a different level of stability and a different pace of the frequency the builds are delivered.
There are three main rings that you can make use of with the Insider Preview builds:
Slow Ring
Release Preview Ring
Fast Ring including "Skip Ahead"
Slow Ring
The Slow Ring is the most stable o the Insider Preview builds. You get new features provided in the Development Branch but again, more stable releases. Builds are sent to the Slow ring after feedback has been received from Insiders on the Fast ring and analyzed by our Engineering teams. These builds are serviced using the same tools and processes as our production builds, including our weekly security fixes, and address key issues that prevent many Windows Insiders from being able to use Fast ring builds on a daily basis. Keep in mind, the slow ring builds are still from the Development Branch and being such, they can still have issues.
Release Preview Ring
The Release Preview ring is the ring you want to be on if you want early access to updates, applications, and drivers without risking going all the way to the Development Branch mentioned above. This is the type of ring you want to be configured for if you want to gain early access to the November 2019 build.
If you want these types of new additions, the Release Preview ring is your best option. The Release Preview ring is only visible when your Windows build version is the same as the current Production Branch. The only way to go back from the Development Branch to the Production Branch is to reinstall Windows.
Fast Ring
If you want to be even more on the "bleeding edge" of Microsoft Windows technologies introduced, the Fast ring allows you to be the first to use and provide feedback on new and improved features. Keep in mind, you certainly don't want to have a machine on the fast ring that you need to provide production-level stability.
Because we are also validating a build on a smaller set of devices before releasing, there is also a chance that some features might fail in some device configurations. If you find issues, you can provide feedback on the Feedback Hub app or the Windows Insider forums.
Skip Ahead
This is a unique version of the Fast ring that allows Insiders to "skip ahead" to Windows 10 Insider Preview builds in the next release while we are finishing up a current release. Enrollment in Skip Ahead is offered for a limited time to a small subset of Insiders.
Get Windows 10 November 2019 Build Early
Let's take a walk through the steps required to get Windows 10 November 2019 Build early before it is released to the masses.
Navigate to the Settings page for Windows 10. You can easily get here by pressing "Windows Key" + I. Once you are there, scroll down and click Windows Insider Program > Get Started.
You will be asked to Pick an account to get started > Link an account.
Next, choose the type of account you want to link to the Windows Insider Program.
Enter the account login…
After entering your account and providing the password, you will need to click through a few screens. The first asked to use this account to find a lost device, sync your settings to other devices, etc.
Now, the important screen here. What kind of content would you like to recieve? This is the screen where you choose the ring you want to participate in. We are interested in the first option – Just fixes, apps, and drivers. This allows you to get early access to updates, applications, and drivers.
Confirm that you agree to allow Microsoft to collect information from your Windows Insider-enabled computer.
Finally, to finish out enabling the Windows Insider Program on your Windows 10 PC, you will need to restart.
Wrapping Up
If you want to get Windows 10 November 2019 build early, the Windows Insider Program is the way to do it. By enabling early access on your Windows 10 PC, you can pull down updates before they are officially released to the masses of Windows users. By doing this however, you are agreeing to perhaps introduce issues that have not been seen before and could cause issues. However, if you want access to the newest Windows features and can't wait, the Windows Insider Preview program allows you to get access to these types of updates in various levels of "bleeding edge" to test them out before officially being released.
Don't miss out on new posts! Sign up!