For those of you who use VMware Workstation, if you have ever tried to mount maybe a new USB 3.0 thumb drive and have it available as a removable disk in your VMware Workstation guest OS and found that it doesn't show, this post is for you.  Recently, I acquired just a plain jane USB 3.0 64GB thumb drive from Amazon in order to make some bootable disks, carry files, etc.  However, I noticed that when I plugged in the new thumb drive, the host workstation recognized the disk with no problem as expected.  However, when I navigated in VMware Workstation version 11 to my removable devices, it didn't show up.  What gives?
Well, I had a hunch after reading a couple of posts in the VMware forums that it had something to do with the fact this was a USB 3.0 disk.  There is also a few KB articles dealing with various USB 3.0 issues such as this:  https://kb.vmware.com/selfservice/microsites/search.do?language=en_US&cmd=displayKC&externalId=774.  The workstation I was using had USB 3.0 all the way around which is even more suspecting.
As you can see this is my menu even after connecting the USB 3.0 thumb drive….no thumb drive available to disconnect from the host and connect to the guest:

What is odd about this is that the guest fully supports USB 3.0 and the properties on the guess controller shows USB 3.0:

However, even though the above suggests it should be able to see the USB 3.0 drive, it would never show up.  Since I had no USB 2.0 ports on my workstation and only 3.0, what I did to resolve the issue was pull an old USB 2.0 hub out of the desk and plug the thumb drive in there to "downgrade" the speed to 2.0.  After plugging in the drive to the USB hub, everything showed up as expected: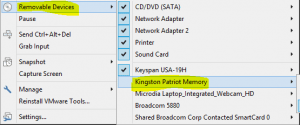 If you run into an issue in VMware Workstation where you don't see the removable devices as expected, first check and see if it is a USB 3.0 device and which controllers you have available to you on your workstation.  If you have a 2.0 slot available, most likely you can plug in there and the issue will be resolved, however like me you may need to resort to putting another 2.0 device in the middle to downstep the compatibility to allow the guest to see the device.
This is obviously a driver issue in the stack, however, by version 11, it would seem VMware would have resolved this issue as more and more devices if not most are now 3.0.  Let me know your thoughts and experience with this issue.
Don't miss out on new posts! Sign up!