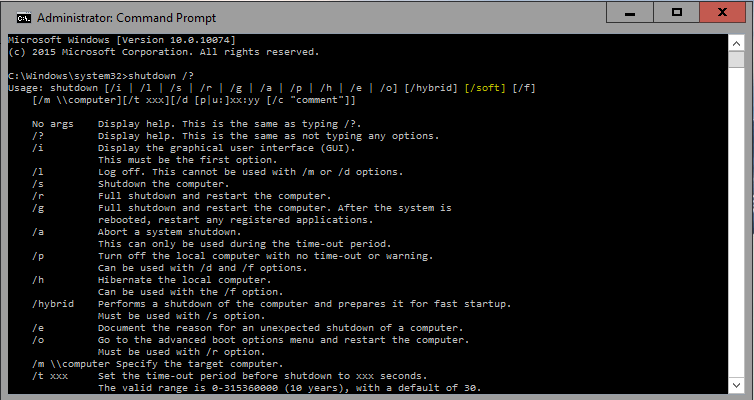 One of the highly anticipated features of the next Server OS from Microsoft is the soft reboot feature which allows for a soft reboot of services and the shell instead of having to reboot an entire server through POST, RAID adapter post, etc – the full reboot that we all love to hate with servers.
In the earlier technical previews, the soft reboot was a feature that had to be installed in Server Manager in order to have the command available in the commandline.  One thing I noticed with Tech Preview 2 is that the soft reboot is already installed and you don't have the option to either install or uninstall in Server Manager any longer.  However, it still looks like the functionality is not working at this point even though the command is there.
UPDATE As of Technical Preview 4, the soft reboot feature still performs a full reboot.
Take a look at Server Manager now as feature is no longer available.  In the first preview, it was listed under the SNMP Service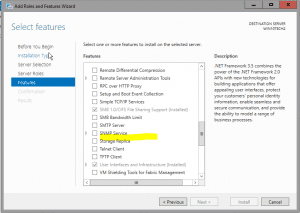 As you can see, without installing any features, I already have the /soft switch listed for the shutdown command.
In giving the command a try, using the syntax below, the server reboots, but does a full reboot and not a soft reboot.
As you can see, the VM completely POSTs and hits the ISO I have mounted, etc.
The soft reboot feature is definitely one that admins are chomping at the bits for and I would really love to see this in action in my VM lab, but I guess this is one of the features that we are going to have to wait for a future release to be able to get our hands on.  As mentioned above, it looks like the /soft switch is there, but it doesn't do anything at the moment.  However, as you can also see, progress is being made in that the soft reboot feature is no longer something you have to intentionally install under Features as it is already baked into the install.
Don't miss out on new posts! Sign up!