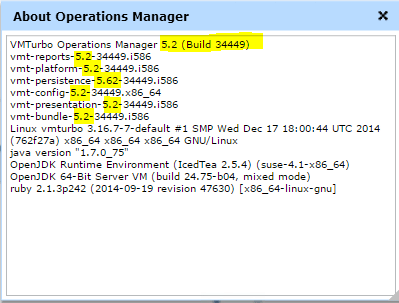 VMTurbo is a great free product out there that is designed to help you monitor your virtual environment free!  Recently, they have released version 5.2.  The process to update is very easy, but I wanted to show you guys the screenshots of the update process.  The update process is done completely at the web interface level, so you need to login to your web console to initiate.
To begin the update process, login and then navigate to the Admin menu and then over on the left hand panel, you should see maintenance.  After you click the maintenance menu, you should see a screen like below.  As you can see I am running VMTurbo Operations Manager 5.0 (Update 2) (Build 33126).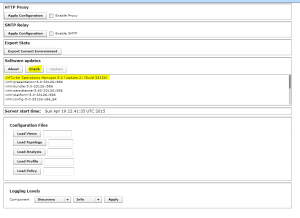 Run the Check button which should correctly identify that version 5.2-34449 is available.  After you see the available update, click the update button.
After you click update you will see the update confirmation notice pop up.
After you click Yes you will see the note "The Operations Manager appliance automatically restarts as part of the update.  This can take up to 10 minutes or longer.  To see whether the Operations Manager restart is complete, click the browser's Refresh button.  If the user interface loads completely, Operations Manager has completed the update and restart process".
After you have refreshed your browser and are able to log back in.  Click the gear icon over in the upper right hand corner and click About.  You should see that your VMTurbo appliance is now at the 5.2 version level.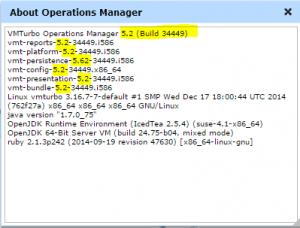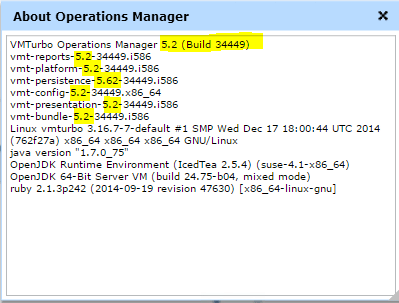 Final Thoughts
The update is super easy.  The only thing I would like to see here is some kind of update monitor process where you can see a progress indicator or percentage of the update process.  It is a bit vague to just refresh your browser until you are able to log back in.  However, it is nice to see such a great monitoring product for free and see it maturing so nicely.
Don't miss out on new posts! Sign up!