Windows
How to fix BGINFO black background issue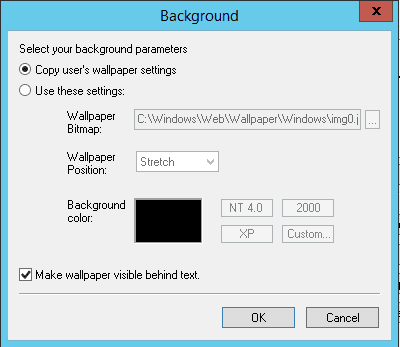 BGINFO is a very useful utility in any server environment where you have many server desktops you may remote into at any given time.  In this age of virtualized environments, oftentimes we may have literally hundreds of server desktops to administer.  Having quick and up to date hardware, OS, network, and other pertinent and useful information readily available right in front of you is exceptionally useful.
Since I have been using BGINFO and moving now into Windows Server 2012 and R2 servers I have noticed an issue where after a couple of logins into the server, the background is changed from what is set originally to a black background, which has been annoying.  The BGINFO information has still been updating, however, the wallpaper never comes back at that point.
There are threads out there on this issue where others have seen this and several suggestions are made in relation to this issue and they are definitely valid things to check.  However, in my case they didn't pan out:
Make sure there aren't group policies in place that restrict changing of desktop background through remote desktop
Set the BGINFO option to "update this wallpaper"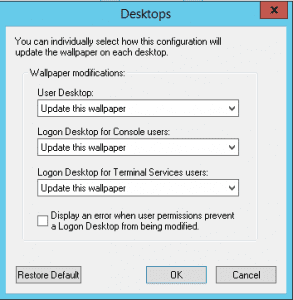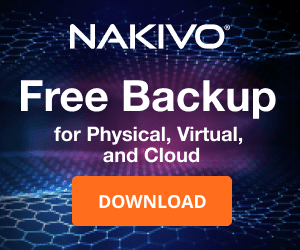 However, as you can see above, on servers I have seen the issue, I have set all the options to the "update this wallpaper" setting.  The culprit in this scenario is the Background color setting that is set by default which is black as you can see under the "Background" setting in BGINFO.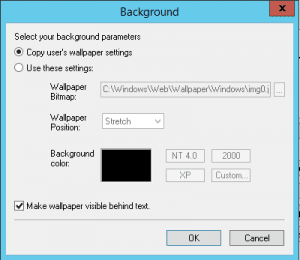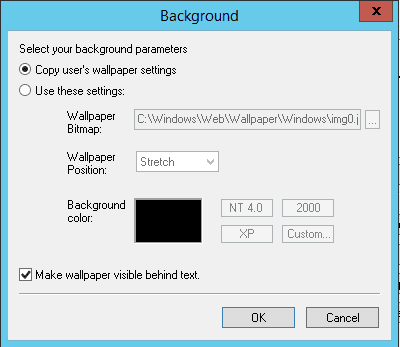 How to fix BGINFO black background issue:
The solution for me that resolved the black background issue was hard setting a wallpaper background.  I wanted it to be the default "Windows Server 2012 R2" grey background.  So I set this in the Wallpaper bitmap option in the Background settings:  C:WindowsWebWallpaperWindowsimg0.jpg
Now the Background settings are set as follows: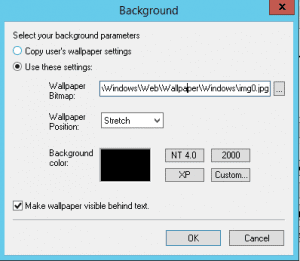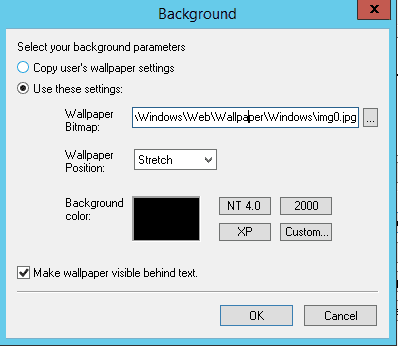 After setting the Background settings to the above, I have no longer had the "black background" issue with BGINFO.  All logins either via remote desktop as well as via the console have all displayed correctly with the Windows Server 2012 R2 background behind the current system status text of BGINFO.
Hopefully this thread will help others of you out there using BGINFO to display system information resolve the pesky black background issue on your servers.