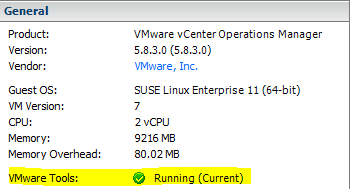 In rolling out the latest vCenter and ESXi host updates that have come about in the last couple of days, the other part of that step is making sure that all vm tools are updated on guest VMs in the environment.  This is a very straightforward process in the Windows VMs as you basically right click on the guest VM, and choose Guest and Install/Upgrade VMware Tools.  You can then choose the automatic upgrade route which will automatically run the updater and restart the processes involved and you are done!
However, it of course is a little more involved with Linux VMs as in most cases it is a manual process that needs to be initiated to get the VMware tools up to date.  VMware Operations Manager vApp consists of (2) VMs – the UI VM and the Analytics VM.  Both are Linux boxes that are setup during the deployment of the Operations Manager vApp.
To upgrade the VMware tools on both of these VMs, you can follow the same process.
The Process
The first thing to do is similar to the Windows VMware Tools upgrade process.
Right click the VM and choosee Guest >> Install/Upgrade VMware Tools
Then select Interactive Tools Upgrade
The automatic option will attempt automatically upgrade which doesn't work in the Linux environment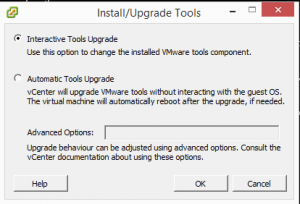 After you have mounted the VMware tools VM via the option under the Guest menu, run the following commands on both the Operations Manager UI and Analytics VMs:
Login as root
mkdir /mnt/cdrom
mount /dev/cdrom /mnt/cdrom
tar zxpf /mnt/cdrom/VMwareTools-x.x.x-xxxx.tar.gz -C /tmp/
umount /dev/cdrom
cd /tmp
cd vmware-tools-distrib/
./vmware-install.pl -d
You will then see a flurry of command running via the vmware-install.pl script.  After the tools upgrade has completed, you will eventually get back to a root prompt.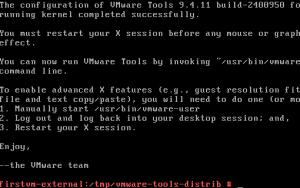 After you successfully update the VMware Tools you should be able to look at the Summary tab on the VM and see the VMware Tools status as a green checkmark with a current status.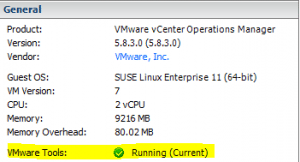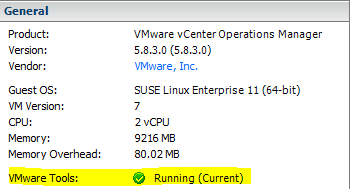 Don't miss out on new posts! Sign up!