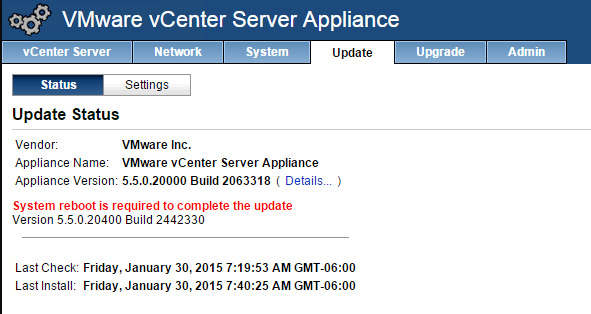 For smaller environments the vCenter Server appliance is a great and easy way to get up and running with vCenter.  The update process to keep the appliance up to date is rather painless as well.  With the recent release of vCenter Server 5.5 update 2d, I decided to take my vcenter appliance running in my lab up to version 2d as I was a couple of updates behind.
The process
First things first, I recommend that you create a snapshot of the vCenter appliance just in case, so you have a rollback point to go back to if something goes wrong in the update process.  The process involves first logging into your vCenter Server appliance web interface which by default is located at https://<your_vcenter_server_ip>:5480/
When you login, you will see an Update tab located in the top row of tabs in the admin interface.  As you can see below we have available updates and the new build is showing up as the update that is available.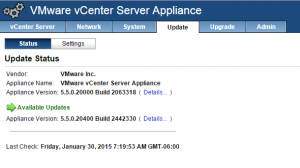 Over on the right hand side of the update panel, you will see the Check Updates and Install Updates options available.  If you don't see any updates available you can select the Check Updates to make sure of available updates.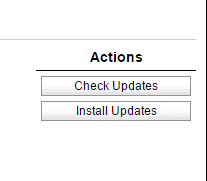 Once we have an update that is available to install, you simply click the Install Updates option which will then start the update process with a series of confirmations: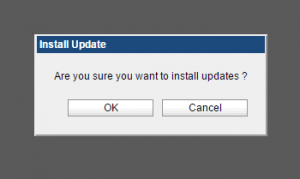 You will see the message that the update process is kicking off once you select to install the update.

After the update completes, when you log back into the admin interface, you will see the message under the update tab that the System reboot is required to complete the update.  You will then need to restart your virtual appliance to complete the update process.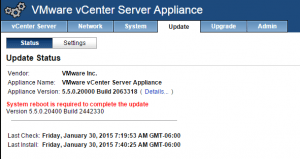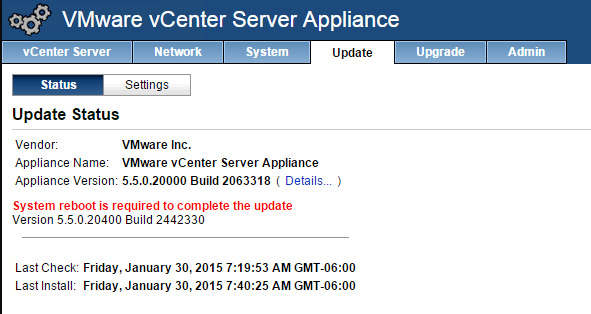 Simply login to the console in the vCenter Server appliance and issue the reboot command.

After you reboot the vCenter Server appliance and it comes back up and all services have started, you should be able to log back into the web interface of the vCenter Server appliance and verify the version on the vCenter Server.  As you can see below, after logging in after the update process, we see the correct 5.5.0, 2442330 appliance version.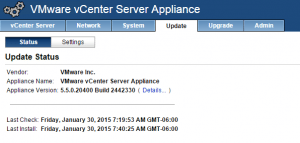 Final Thoughts
As you can see above the update process for getting the vCenter Server appliance up to date is VERY painless.  The update process is a very smooth, point and click operation.  I recommend you create a snapshot of your vCenter Server appliance before running the update just in case something goes wrong during the process, but most likely you will never need the backup as the update process from what I have experienced in the vCenter appliance is very rock solid.
Don't miss out on new posts! Sign up!