Exchange
Troubleshooting Exchange Activesync Connection on a Smartphone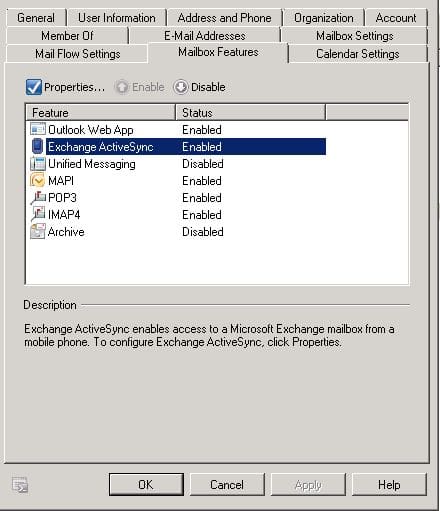 Activesync is a great way to sync most smartphones these days with your Exchange environment, however, this can be a double edged sword as connection problems with Exchange Activesync can be VERY frustrating, especially if you don't know where to look for issues.  There are a couple of minor problems that can come up which can cause headaches with Activesync.  A few that are obvious and some that are not so obvious.
In troubleshooting Activesync, one of the first things to do is to figure out whether it is a user specific problem or if the problem is a global one.  Are all of your Activesync users having issues?  Or, is everything going fine with other users and you are simply trying to connect a new user with a smartphone to your environment?  Many times the latter problem can be one of the most frustrating.  Every smartphone out there seems to have their quirks when it comes to getting them connected to Exchange.  Some phones want the username/domain combination formatted in a certain way while others may want it in a different way.  So first things first if the problem is with a specific user, you need to gather information on the type of phone they are using and see what it expects or requires with the credential information.
Also, nothing is more frustrating that having a user mistype their password on their smartphone and you troubleshoot the issue for an hour trying to figure out what is going on, only to figure out later, they were mistyping their password.  So, make SURE this is not the issue first.
Mailbox Feature
Also, of the more obvious nature is the Mailbox Feature which allows Activesync.  Is it turned on?
Open up the Exchange Management Console and navigate to the Recipient Configuration
Click Mailbox.
Find your user and right click and select properties.
Click the Mailbox Features tab
Check and see whether the "Exchange ActiveSync" option is set to Enabled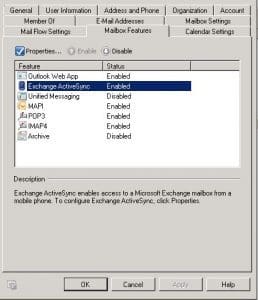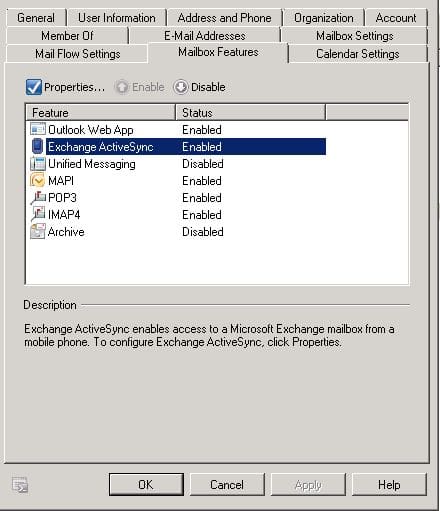 I can't tell you how many times, in consulting with various organizations and helping with Activesync problems, that the option for the user was turned off and the user couldn't connect.
Permissions
One of the less obvious problems that can happen with Activesync that has been covered by many tech blogs in the past but we feel is definitely worth repeating here is the Advanced Permissions on the user account.  A lot of times EVERYTHING looks fine from the Exchange Server side and there isn't any obvious issue that should be preventing a user from connecting via Activsync, however, it simply does not work for some reason.
To make sure there isn't a permissions issue involved with the user account not being able to connect via Activesync.
Open Active Directory Users and Computers
Make sure under the View menu, the Advanced Features are checked
Navigate to your user, right-click, and go to properties
Select the security tab
Click on the Advanced button at the bottom
On the Advanced Security Settings dialog box that opens for the user, at the bottom make sure the Include inheritable permissions from this object's parent is checked
Click OK
Especially after a failed attempt on a smartphone to sync a user to Activesync and in setting up an account on the phone, it is always best to delete out the account and start over once it has failed.  Some phones hang on to incorrect settings even after problems are corrected if they exist on the server side or permissions side.  So always delete it out and start over fresh.
Final Thoughts
Hopefully the above information will help in at least narrowing down the problem that may be preventing a user from connecting their smartphone to their Exchange account.  Oftentimes, it is the most obvious problem which may be causing issues such as a password or even the ActiveSync Mailbox Feature being turned off.  However, sometimes it can be the less obvious such as permissions in Active Directory on the user account itself.
Don't miss out on new posts! Sign up!