As organizations look to protect their data, backups are the core central component of any good disaster recovery strategy. However, while having backups is critical, they have to be restored to realize their value. Long, drawn-out recovery times can devastate Restore Time Objectives (RTO). Businesses are continually looking for new and faster ways to recover their business-critical data when needed. StarWind helps businesses stay ahead of the curve in their data protection solution by providing ultra-performant solutions that quickly recover data. Recently StarWind introduced its fast backup appliance yet, incorporating NVMe-oF RAID data protection in StarWind backup appliance.
StarWind Backup Appliance incorporates GRAID SupremeRAID – What is it?
You want to ensure they are protected from hardware failures, including drive failures with your backups. Historically, RAID technologies have protected data by striping parity information across disks to allow the data to be resilient to drive failures. Depending on the type of RAID, this directly affects the number of failures that can be tolerated.
RAID controllers were not the bottleneck with old "spinning rust" disks as the onboard ASICs were able to keep up. It was always the drives themselves that created the bottleneck to performance. However, fast forward to today. Blazing fast drives and technologies have revolutionized the hard drive industry. NVMe is now a mainstream technology that businesses can get their hands on in enterprise gear. However, NVMe has shifted the performance bottleneck elsewhere. Using NVMe with traditional RAID controllers and technologies leads to a tremendous loss of performance, and, quite frankly, traditional RAID can't keep up.
However, a new solution from GRAID tech called GRAID SupremeRAID sets out to change the game of RAID protection with NVMe and NVMe-oF. In the era of NVMe SSDs, a single NVMe SSD can deliver in the neighborhood of 1 million IOPs and 7GB/s of throughput.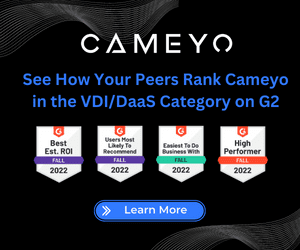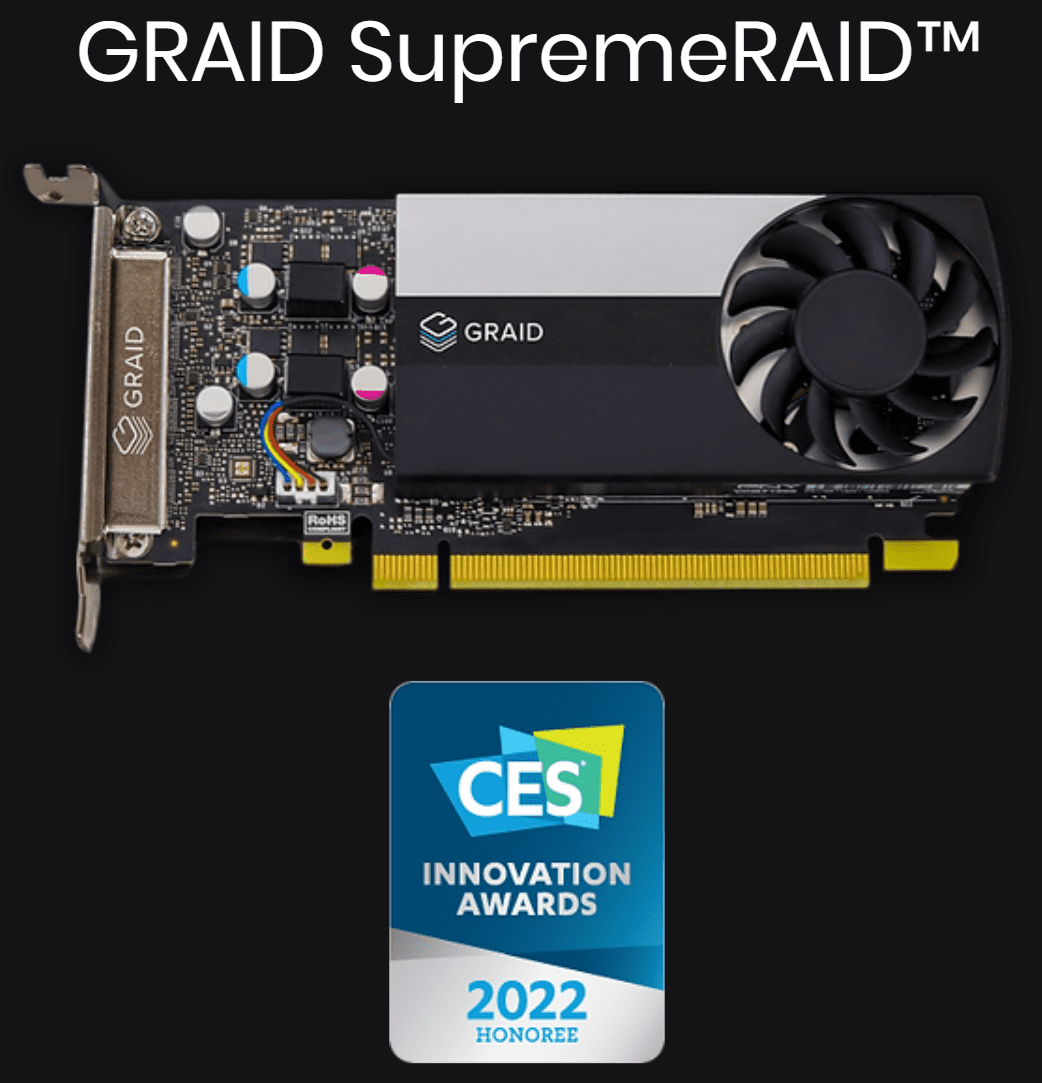 GRAID SupremeRAID is the first NVMe RAID card capable of delivering maximum SSD performance. It delivers a software/hardware combination that alleviates the RAID bottleneck. It is the world's first NVME-oF RAID solution that protects both direct-attached SSDs and drives connected via NVMe over Fabrics (NVMe-oF).
One of the coolest things about the GRAID SupremeRAID solution is it processes RAID I/O through a specialized GPU. Really, when we think about it, GPUs have been adopted for so many other use cases for processing power. Adapting its capabilities to RAID processing is a clever adaptation of a very capable modern GPU.
NVMe-oF RAID Data Protection in StarWind Backup Appliance
Using the GRAID SupremeRAID solution, the newest StarWind Backup Appliance brings tremendous backup and restore speeds. With StarWind, coupled with GRAID SupremeRAID, organizations can cut their backup window exponentially, if not eliminate it entirely. With this type of performance delivered from the StarWind Backup Appliance, it ushers in a new age of backup/recovery.
The StarWind Backup Appliance with the GRAID SupremeRAID solution brings close to 100% NVMe SSD performance. This performance is not possible with traditional RAID adapters that were never designed for the types of IOPs that NVMe drives can process.
Note a quote from the CEO of GRAID Technology, Leander Yu:
GRAID delivers sophisticated software-composed data protection that offers exceptional features and ROI for IOPS-demanding workloads. One GRAID SupremeRAID™ card can easily manage 32 direct-attached NVMe SSDs, as well as deliver 16 million IOPS and 110GB/s throughput (coupled with 3rd Gen Intel® Xeon® Scalable CPUs, featured in StarWind). Being NVMe-oF-based, no performance is lost over the network. GRAID also takes RAID computation fully onto itself, so all your compute is dedicated only to your applications.
With the capabilities of the GRAID controller underneath the hood of the StarWind Backup Appliance, the new StarWind Backup Appliance is powered by an all-NVMe storage configuration that eliminates any performance bottlenecks. Note the following performance-oriented design:
All NVME
Latest generation CPUs
GRAID SupremeRAID
Coupled with the latest backup solutions, such as Veeam Backup & Replication, the StarWind Backup Appliance can restore data at unseen speeds. For example, using the Veeam Instant VM Restore, which powers on VMs directly from the backup repository, allows "0" restore time. Running the workloads on top of the StarWind-powered all-NVMe backup repository allows the Instant Restore to bring up workloads in the shortest amount of time.
Benefits of the solution
Note the following benefits of the newly redesigned StarWind Backup Appliance:
Backup Speed – Blazing-fast backups and near-toinstant restores allow to fit even the strictest RTO / RPO requirements.
Data Safety – Backup storage and backup software are logically separated with auto-connect / auto-disconnect.
Ransomware – Backups are immutable and encrypted in "air-gapped" virtual tapes, plus automated tiering to the cloud.
Resiliency – StarWind SDS and ProActive Support Services ensure frictionless operation.
Backup Software – Native enablement for Veeam Instant VM Restore. Hardened (according to Veeam's best practices) Linux-based internal Veeam backup repository. Compatible with any backup software.
StarWind Backup Appliance with GRAID SupremeRAID technology configuration
Note the following configurations of the new StarWind Backup Appliance with GRAID SupremeRAID, NVMe, and 3rd Generation Intel Xeon Scalable Processors.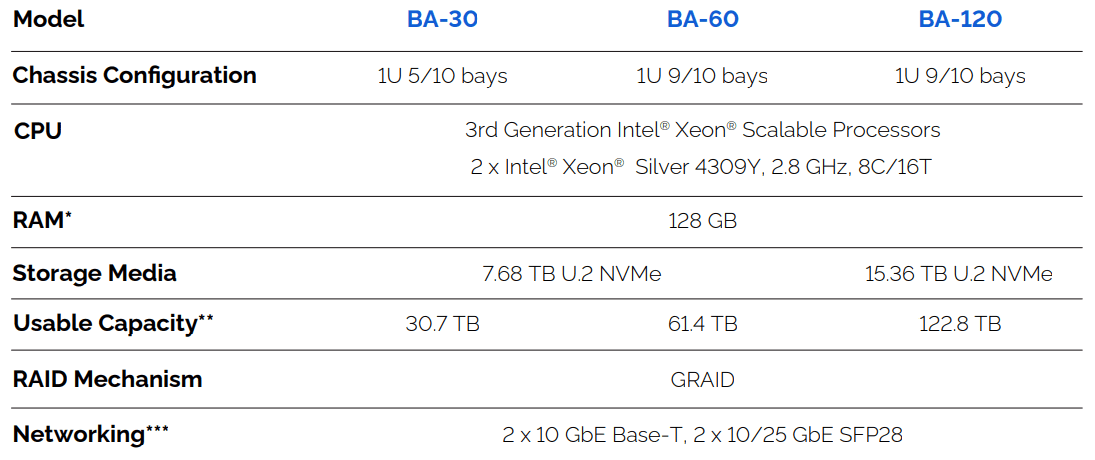 Benchmarks of NVMe-oF Data Protection with StarWind Backup Appliance
StarWind has a very detailed blog post showing the numbers they could get with the new StarWind Backup Appliance, GRAID SupremeRAID, and Veeam Backup & Replication. Below is an overview of the high-level architecture of the test configuration.

Read the detailed blog post here:
NVMe-oF RAID Data Protection FAQs
What is GRAID SupremeRAID? GRAID SupremeRAID is a new offering and the winner of CES2022 awards for innovative technology using a GPU card to process RAID configuration for NVMe RAID configurations. With the GPU powering the solution, GRAID can keep up with the number of IOPs the NVMe-oF configuration can put out. It will be a gamechanger for RAID solutions involving NVMe drives since the GRAID can realize the full potential of NVMe without the bottlenecks of traditional RAID controllers.
What is NVMe-oF? It is an extension of NVMe network protocol to Ethernet and Fiber Channel. It can deliver extremely fast and efficient connectivity between NVMe storage and servers. Using the GRAID controller, all of the processing power required for the GRAID configuration is offloaded to the GPU processor.
What is StarWind Backup Appliance? The StarWind Backup Appliance is a self-contained, all-in-one backup appliance capable of providing a turnkey solution for organizations looking for an enterprise solution to store mission-critical backups. With the latest innovations, the StarWind Backup Appliance can deliver on performance demands found in today's enterprise data centers, using the latest storage technologies, such as NVMe.
How fast are VM Instant Restores? Since the virtual machine instant restore is powered on from the backup files themselves, they are extremely fast. VM instant restores will be blazing fast with the StarWind Backup Appliance powered by NVMe drives. Full recoveries will also be greatly reduced so that organizations can greatly exceed Restore Time Objectives.
Wrapping Up
The StarWind Backup Appliance keeps getting better and more innovative. Coupled with the new GRAID SupremeRAID configuration, organizations will be able to keep pace with the demands of today's enterprise data centers pushing millions of IOPs.
Learn more from these resources: