Backup Software
Veeam Backup and Replication 9.5 Update 2 released new features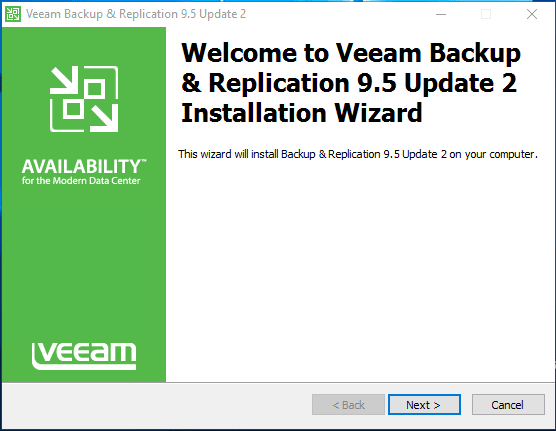 Today there was anticipated news from Veeam with the release of Veeam Backup and Replication 9.5 update 2. It has been in the wild already, however, this is the official release to the general audience. This release includes hundreds of bug fixes and enhancements. This release includes some features that we will talk about below.  Let's take a look at Veeam Backup and Replication 9.5 Update 2 released new features available.
For starters the official KB where you can find the download for Backup and Replication update 2 is here.
Veeam Backup and Replication 9.5 Update 2 released new features
There are many platform enhancements to 9.5 update 2 including enhancements to the following:
Platform Support
File-level recovery
Replication
Storage integration
Tape
Setup Enhancements
Veeam Cloud & Service Provider Partners
New extended platform support includes but isn't limited to:  Cisco HyperFlex Systems, Micorosft Hyper-V BigEndian support, Exchange 2016 CU5, Veeam Agent for Linux 1.0 Update 1, Veeam Agent for Windows 2.0 GA, VMware vCloud Director 8.20 support, VMware vSAN 6.6.
Veeam Agent for Windows 2.0 is the anticipated agent that can backup physical servers and target the Veeam repository.  The server agent provides all the functionality that you are used to with the VM backups, including Application aware backups, restore points, transaction log truncating, etc.
File-level recovery has improvements to gracefully allow for picking a target VM that may have been deleted and restored to use the Multi-OS File Level Recovery wizard.
Replication has failback enhancements to use changed block tracking data to determine changes between the original and replica VM state which improves performance during failback.
Tape support has been expanded to include LTO7 support and exclusive drivers support
Various user interface enhancements have been made including VeeamZIP usability improvements and exagrid preset changes.
PowerShell enhancements include additional functionality to Start-VBRZip commandlet and import enhancements.
There have been significant improvements made to the Setup process. Now, the update setup offers to initiate the upgrade of all remote Veeam components automatically. Concurrent remote update components operation have been increased to 10. Also, now with updates you no longer have to disable all jobs or stop services manually. You do still need to make sure there are no backup or restore jobs running.
Veeam Cloud & Service Providers will be excited that Update 2 includes a Veeam Backup Remote Access feature. MSP's can remotely access backup servers and administer them without the need for maintaining VPN connections.
Update Process
The update process is very painless.  Now without the need to disable jobs and services, it is even less involved.  The patch which can be downloaded from the link above weighed in at around 648 MB in zip file format.  Simply extract the zip file and run the updater.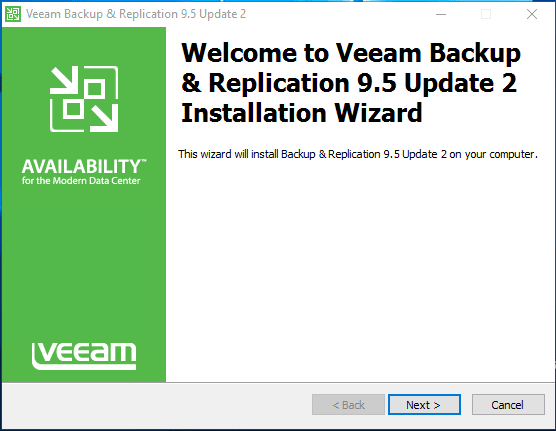 A new checkbox that you will find in the Update 2 updater is the Update remote components automatically which is an enhancement in this version.  If checked, remote components will automatically have the update applied.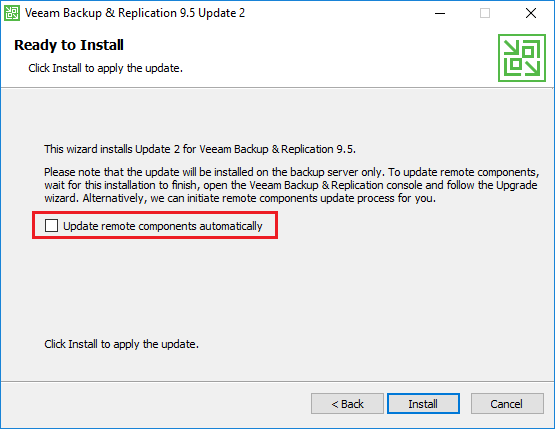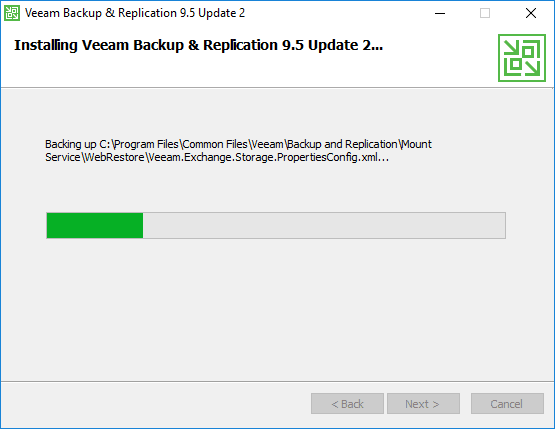 After the update, the version for 9.5 Update 2 is 9.5.0.1038.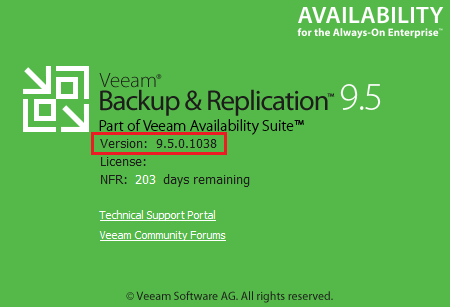 For me, on a small production environment of two servers, the upgrade process took about 25 minutes, which wasn't bad at all.  No hiccups, glitches, or other issues to report.
Thoughts
With the news of Veeam Backup and Replication 9.5 Update 2 released new features make this a worthy upgrade for those running with Veeam Backup & Replication 9.5 Update 1.  Especially, if you are wanting to move forward and deploy Veeam Windows Agent 2.0 GA, Update 2 is a required update for the new Windows agent.  However, as easy and quick as the update is, most will not find it hard to apply the update and start benefiting from the new features and fixes in this release.
Don't miss out on new posts! Sign up!