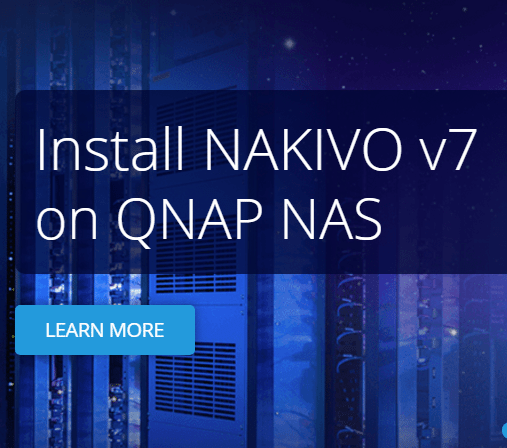 Nakivo continues to innovate with its products and offerings to extend backup solutions to a wide range of environments and hardware.  I personally have had the opportunity to work with Nakivo in a wide range of settings and they are a top notch backup solution that is very capable, diverse, powerful, intuitive, and just plain works.  Today there is exciting news from Nakivo.  Nakivo announces QNAP NAS based VM Backup appliances.  They have announced they have released Nakivo Backup & Replication v7 in the QNAP App Center for Intel based NAS appliances.  This includes entry level, mid range, and Enterprise QNAP NAS servers.  With the Nakivo Backup & Replication v7 software, you can turn QNAP NAS appliances/servers into very powerful VM backup appliances that can backup VMware, Hyper-V, and AWS EC2 instances.
Quote from Nakivo about the release: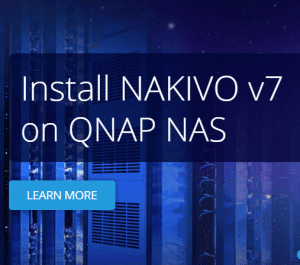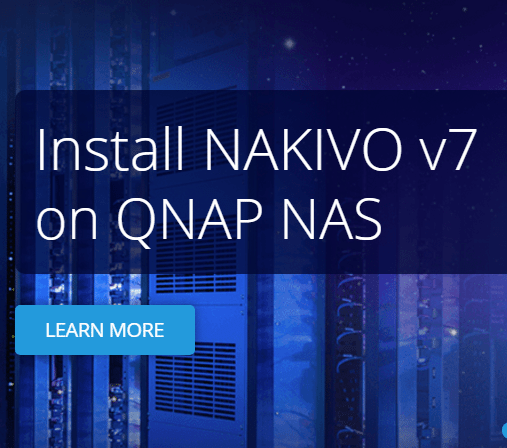 "We are excited to partner with QNAP and deliver a high-performance VM backup solution based on QNAP NAS," said Bruce Talley, CEO of NAKIVO, Inc. "QNAP delivers cutting-edge NAS servers featuring robust operation, large storage capacity, and reliability that are ideal for building a fast and reliable VM backup appliance."
Nakivo announces QNAP NAS based VM Backup appliances
The exciting bit about being able to run Nakivo Backup & Replication v7 directly on your QNAP NAS is that it creates basically a hyper converged backup appliance.  The QNAP NAS becomes a device that has the hardware, backup software, storage, and data deduplication all rolled into a single device.  This makes for a backup appliance that has several key benefits over other virtual infrastructure resources that are used for backups.  These include the following:
Smaller footprint and less maintenance – everything is included into one hyper converged backup appliance (software, hardware, storage, services, etc).
Much more affordable solution for backup – up to 5X compared to the same levels of performance and reliability found in other solutions
Faster – the QNAP NAS appliance running Nakivo is able to direct backup data directly to the disks.  This bypasses the overhead of network protocols – NFS, CIFS, etc.  This results in 2X the performance of other solutions.
Autonomous – Backups are not tied to your virtual infrastructure – This ensures that even if a subset of your virtual infrastructure is down or unavailable, restoration can still be performed which improves reliability and helps to ensure RTO's.
Onsite or Offsite deployment – The appliance can be deployed anywhere.  As the QNAP appliance with Nakivo Backup & Replication v7 deployed has everything rolled into the appliance, it is not tied to virtual infrastructure that may not be present offsite.
What you get with Nakivo
When thinking about the powerful offering that Nakivo is releasing for the QNAP NAS appliances, you get the same range of functionality that comes with the Nakivo Backup & Replication product. Just a few of which include:
Extremely fast and intuitive web interface

Nakivo has hands down one of the quickest and streamlined interfaces to their backup solution. Based on HTML5, the interface is lightening quick and very well thought out in its design. Everything in quick and intuitive from the UI perspective. It is lightweight as well. With the backup appliance software you can literally be creating your first backup job in a few minutes from zero to deployed.
Replication

With Nakivo Backup & Replication v7 you get the powerful ability to not only backup virtual machines in your environment, but also replicate them to another environment. This can be onsite, offsite, or in the cloud.
Backup Copy

The backup copy functionality you get with Nakivo Backup & Replication v7 allows you to kick off and have a secondary copy of your backup data in a totally separate environment. This is another failsafe against losing a location due to some type of disaster or possibly a malware infection. Having multiple copies of your data is always a good idea. The backup copy jobs can be kicked off or scheduled as you choose.
Cloud ready

Nakivo has shown they are cloud ready and have cloud DNA built into their offering. With tight integration with Amazon AWS, you can quickly spin up an instance of Nakivo Backup & Replication to start backing up and replicating your EC2 instances. Nakivo has intelligence built in that allows for the most efficient use of Nakivo EC2 infrastructure depending on the region in which your EC2 instances are located.
Thoughts
Nakivo announces QNAP NAS based VM Backup appliances – great news for QNAP owners or those looking for an all in one appliance solution.  The great thing about Nakivo is you can download a free trial copy of the software an test drive the great features of the product.  Also, for IT Pros you can download an NFR license for use in a non production lab environment.  Nakivo keeps on innovating and taking the Backup & Replication product to the next level.  It is great to see their fresh and innovative approach to their backup solution.  Check out our review of Nakivo Backup & Replication v7 here.
Don't miss out on new posts! Sign up!