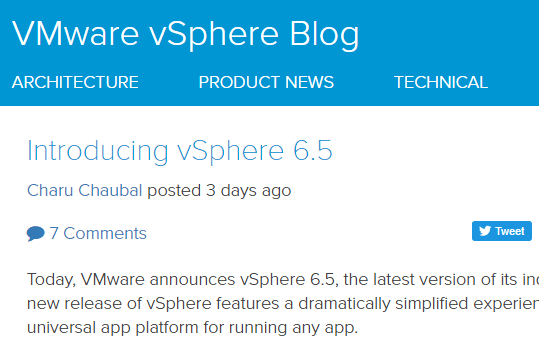 Recently, at VMware World Barcelona 2016, the much anticipated announcement of the next version of vSphere was released.  Excitement certainly builds for the availability of this new version of vSphere which touts many new advancements in technology especially in the arena of vSphere vCenter server itself.  The focus with the next generation of vSphere is on a better end user experience, security and universal platform services.  VMware vSphere 6.5 announced download it soon we hope!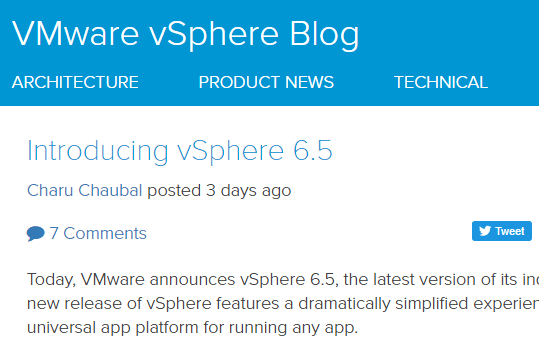 Some of the new features that make vSphere 6.5 and especially vCenter server 6.5 especially powerful are the following:
New vCenter Appliance 6.5
Integrated update manager in VCSA appliance (this was one of the last things that Windows vCenter had over VCSA but not any longer).
File based backup and recovery

New backup and restore is built in that allows customers to backup appliances directly using VAMI or by way of API
Also backs up both VUM and auto deploy

Native VCSA high availability

Active, Passive and witness nodes!

Performance improvements of 2X to 3X.
Even more powerful REST API integration that makes managing and administering vSphere much more powerful
An all new HTML5 web client that should finally give us the web interface that we have been looking for which compares to the speed of the vSphere C# client.
New migration utility that will help migrate from vCenter server 5.5 and 6.0

Will also migrate VUM (update manager) data across along with baselines, etc

Improved appliance management

New HTML interface that details all the important metrics for your vCenter appliance
New Security!

New secure boot model to protect both the hypervisor and guest OS'es
VM-level disk encryption
Encrypted vMotion
Enhanced audit-quality logging

Integrated container support
Download the new version
So far, the evaluations and binaries haven't come available as of yet, however, keep a check on the official download link as they may appear soon!
https://www.vmware.com/products/vsphere.html?src=vmw_so_vex_pbrar_70
vSphere 6.5 Hands On Labs
https://www.vmware.com/go/try-vsom-hol
Thoughts

There is no doubt about it, this is shaping up to be an exciting release for sure!  Bookmark our post here VMware vSphere 6.5 announced download as we will be keeping it up to date we find out more!
Don't miss out on new posts! Sign up!