Computers
How to show information about your computer on your Windows Desktop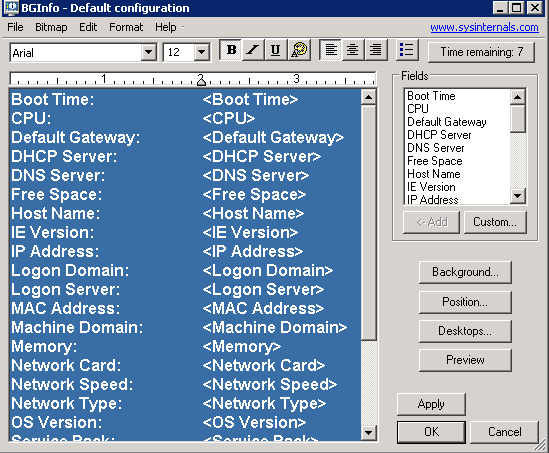 There is a really great utility that is devloped by Sysinternals that allows you to present a custom Windows background that can show you all kinds of information about your computer in a customizable format.  The utility is called BGinfo.  BGInfo queries relevant information such as the computername, network information including IP addresses, DNS info, logon domain, machine domain, OS version, service pack levels, boot times, CPU, memory, diskspace.  It is a very handy utility especially for server admins who want to display all the pertinent information of their choosing on server desktops, but it can also be a cool things for anyone looking to present information on their desktops.

Take a look at the screenshot below of the configurable options and values that can be added to BGinfo information.  You can also customize the background, colors, etc.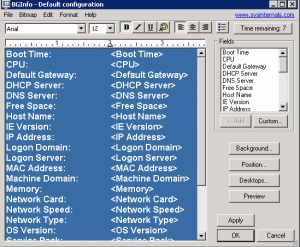 Once you configure your BGinfo settings like you want them, you can setup a script or batch file to run at every user login to present the information you want to display.  The script that will call BGinfo.exe and then pass the .bgi saved settings to the program would look something like the following:
"c:program files (x86)bginfobginfo.exe" "c:program files (x86)bginfobginfo.bgi" /timer:0
One other important customization if you want the .bgi file for all users is to make sure the temporary location for the bitmap that is created which leads to the Windows background is somewhere the user has permissions to get to.  There is a menu option in BGinfo itself which allows you to customize this location.
Under the Bitmap menu choose Location and you will be able to configure via radio buttons the default storage location of the bitmap.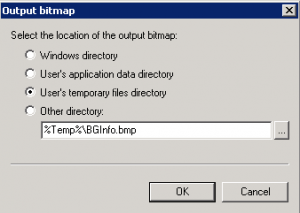 Download BGinfo.exe at the official Sysinternals website here: https://technet.microsoft.com/en-us/sysinternals/bb897557.aspx
Don't miss out on new posts! Sign up!