If you are running Outlook 2010 and notice that you are having performance issues with Public folder performance, you need to install Service Pack 1 for Office 2010.  The service pack is a free download from Microsoft and is a must install to resolve several issues that may be encountered within Office and other stability/security/performance issues.  You can find the download of the service pack here.  Pay attention to which version you are downloading and be sure to download the SP for your Office architecture either 32 bit –x86 or 64 bit – x64.
The way you can tell what version of Outlook you are running, go to the File tab, then click Help and look to the right most pane.  You should see the "About Microsoft Outlook" information which will give you the Version information.  If you are running anything less than version 14.0.6023.1000 then you do not have SP1 installed.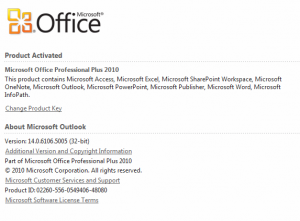 For System Administrators
If you already have an Office 2010 distribution share setup in your environment, slipstreaming the service pack into the distribution will save you tons of installation and upgrade time for installations in the future.
To slipstream the installation, download the Service pack files from the download link in the top of the post.  Run the following command:
SP1filefromMS.exe /extract:c:\somefolder (the "somefolder" can be any folder you want)
Copy the extracted files in the step above into the "YourofficedistributionfolderUpdates" folder  (Note, don't copy the parent "somefolder", simply copy the contents which should be a bunch of "msp" and "xml" files
After performing the above steps you should have a distribution share that will automatically install SP1 along with Office 2010!
Final Thoughts
Service pack 1 should be considered a must for anyone using Office 2010.  Especially in corporate or business environments running public folders with Exchange, you will notice huge improvements in performance after installing SP1 and other ills will be solved.  Slipstreaming is your friend as an admin as well.  It takes just a couple of minutes to extract and copy the files, but you will save huge amounts of time after the fact.
Don't miss out on new posts! Sign up!